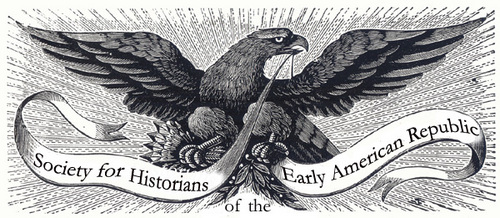 Students of the early American republic: I urge you to apply to SHEAR 2016's Graduate Research Seminars!
The program, which debuted last year, brings together grad students and senior faculty clustered around four "hot" themes in the field for an hour and a half or so of small-group discussion. Lunch is free. The sessions are open to current graduate students and those who earned a Ph.D. during the 2015-16 academic year. A one-page dissertation abstract is all it takes to apply. Best of all, this year's lineup of topics and faculty is just as wonderful as 2015's was. The sessions this summer in New Haven include:
I was thrilled to learn that SHEAR decided to continue this program beyond its pilot year. Last year in Raleigh, I attended the seminar on capitalism, labor, and political economy. Christopher Clark and Paul Gilje hosted the session. They embargoed any discussion of the nine participants' own respective projects until the last twenty minutes of the lunch, which freed us from the self-promotion pressures we tend to experience at conferences and allowed us instead to consider the field as a whole—its significance, its methods, its blindspots, and its agenda. We enjoyed rich conversations, for example, about how and why labor history has changed in recent decades, about the field's relationship to definitions of "capitalism," and about the methods we use and the recent (and older) work that has invigorated our own. Also, the lunch was good.
The session's conversation was tremendously productive in and of itself; it has shaped much of my thinking and writing since then. Moreover, the graduate research luncheons are professionally useful. Some would say they're a great way to "network," though I dislike that word and its transactional connotations. From my perspective, the more important benefit was that I suddenly felt that I, as a dissertation writer, had an audience—a future readership made up of not just my committee, or of the mostly senior scholars I speak to in my footnotes, but also of members of my own "cohort" in the field, people who share my intellectual concerns, and whose work I eagerly anticipate reading and engaging with for decades to come.
If you're a graduate student and heading to SHEAR New Haven, I strongly encourage you to apply for this year's research seminars—if only for the rush of seeing a SHEAR friend's name pop up in Amazon's "Recommendations for You" a few years hence. Your book will pop up in their list, too.